General FAQ's
What is Sponsure and who is it for?
Sponsure is a marketplace to promote and discover amateur sport sponsorship opportunities. Sports clubs, schools and universities can promote their sport sponsorship opportunities to businesses and brands to purchase.
The "Search Tile" explained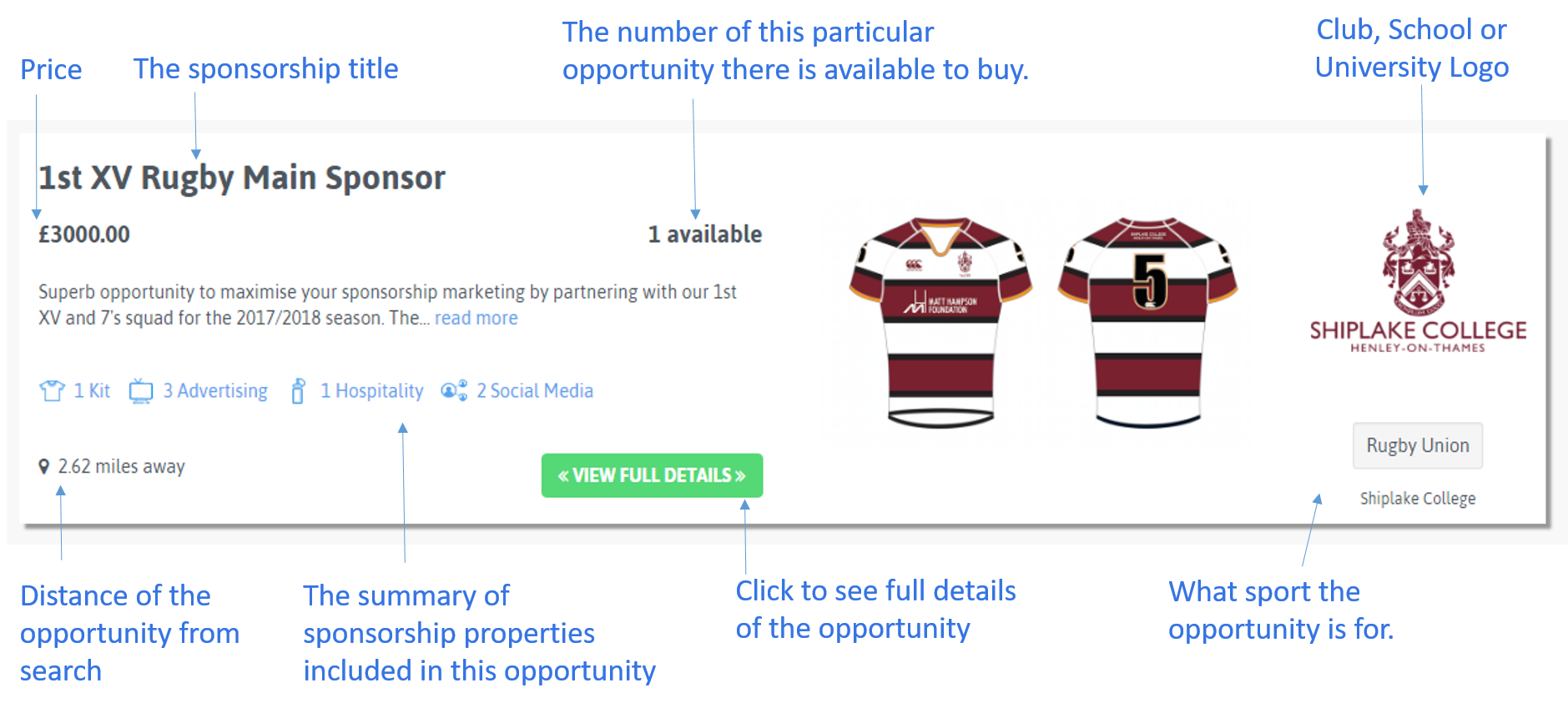 Raising Sponsorship FAQ's
How do I create a sponsorship opportunity?
Easily – in 3 simple steps
You create a FREE Sponsure account.
You create either an individual or package sponsorship opportunity / opportunities
A sponsor buys one of your opportunities and funds automatically arrive in your nominated bank account.
How many sponsorship opportunities can I create?
You can create and publish as many opportunities for FREE as you like.
How much do Sponsure charge?
Sponsures fee is 12.5% (excluding VAT) of a purchased sponsorship opportunity price. This FEE is ONLY taken when a Sponsor successfully purchases a sponsorship opportunity and is taken automatically before funds are placed into your bank account.
Who sees my sponsorship opportunities?
Once your sponsorship opportunities have been published on Sponsure they will be visible to any business or individual searching on the other side of the platform.
Can I decide which organisations we won't accept sponsorship from?
Yes, you can make an industry exclusion list upon creation of your opportunity.
What is the minimum sponsorship value I can raise?
The current minimum value you can assign to a single sponsorship opportunity is £150
Who can create a sponsorship opportunity?
Any sports club, school or university in the UK can create an account and seek sponsorship.
We are working really hard so that individual athletes, sports associations, sports leagues and sporting events will soon be able to do so.
Can I edit my profile and my sponsorship opportunities?
Yes you can edit both. In your "My Account" page you can add/remove information regarding your profile and click "Save Changes". To edit sponsorship opportunities go to your "My Account" page and click on the Sponsorship Opportunities tab. If your opportunity is published you will need to change the status to on hold or draft to edit, then republish the opportunity once the changes have been made.
I have just published a sponsorship opportunity but I cannot see it on the site?
An opportunity can take up to 24 hours to show on Sponsure, but normally it will be there much quicker.
What type of sponsorship opportunities are accepted on Sponsure?
As long as it is linked to sport then it can be part of an opportunity, so from minibuses transporting children to matches to playing kit and on to floodlights and scoreboards and everything in between. Do get in contact if you have any questions.
Can I put a time limit on my sponsorship opportunity?
Yes, on creation of the opportunity there is an "available to buy until" option.
Can I remove a sponsorship opportunity?
Yes, go to your "My Account" page and click on Sponsorship Opportunities. You can edit, and pause (remove from view) opportunities here.
How quickly do I receive the sponsorship money from the sale of an opportunity?
Depending on the method of payment by the Sponsor:
Credit/Debit Card – within 24 hours
Bank Transfer – takes a maximum of 3 working days
Providing Sponsorship FAQ's
How do I sponsor?
Create a FREE account on Sponsure as a Sponsor
Search Sponsure (by sport, budget, location demographic) for all open sponsorship opportunities
Select the opportunity that best meets your business objectives
Communicate with the Club, School or University
Purchase and activate
What happens after I have purchased a sponsorship opportunity?
You will be provided with the relevant contact information for the sports club, school or university in order to begin activating your sponsorship.
What are the payment methods to purchase sponsorship the Sponsure platform?
All major debit/credit cards
BACS Payment (Bank Transfer)
Do we need to pay to create a sponsor account?
How do I get an invoice?
All invoices will appear in your Account profile under the Purchase History menu option.
Can I contact the Sports Club, School or University I am interested in sponsoring?
Yes we have a messaging system – that will help facilitate your purchase.
As a sponsor, what fees do I pay?
As the Sponsor you just pay the price of the sponsorship, nothing extra.
Can I sponsor multiple sports?
How much do sponsorship opportunities cost?
Sponsorship opportunities start from little as £150. 
Why do some opportunities have VAT and some don't?
The price shown on each opportunity is the price paid by a sponsor. If the opportunity includes VAT it means the club, school or university is VAT registered so has to charge VAT. If "incl VAT" is NOT shown next to the price, it means there is no VAT to pay on that opportunity.